<!Recipie----->

Morrocan Mint and Cinnamon Tea

Fresh mint tea with a dash of cinnamon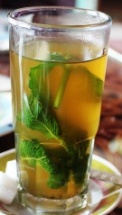 <!Ingredients----->

Ingredients:

3 bags of black tea
1 cup mint sprigs
Ground cinnamon to taste
Sugar to taste

<!Method----->

Method:

Boil 2 cups of water, remove from heat.
Add mint, cinnamon and sugar then stir.
Let rest for 2 min then strain.
Place 1 mint spring in each glass then serve.