<!Recipie----->

Rose Sharbat Drink

Fresh rose petals with lemon and pomegranate juice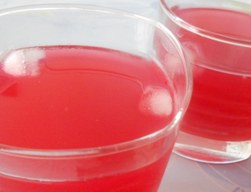 <!Ingredients----->

Ingredients:

1/2 Cup Rose Petals, freshly picked
3/4 Cup boiling Water
1/4 Tsp Cardamom Seeds
3/4 Cup Sugar
1/4 Cup Lemon Juice
1/3 Cup Pomegranate Juice
5 Cup Cold Water

<!Method----->

Method:

Crush the rose petals with mortar and pestle and place them in a large bowl.
Add the boiling water, then pour the mixture to a metal container and add cardamom seeds. set aside for 8 hours or overnight.
Pour the rose-cardamom water through a muslin lined strainer set over a bowl.
Add the sugar, and float the bowl over a hot water filled sink until the sugar dissolves.
Remove from the hot water and filter it again.
Cool it to room temperature.
Combine all the ingredients in a pitcher and stir well.
Serve in a glass half filled with crushed ice.