<!Recipie----->

Turkish Boza Drink

Sweet fermented bulgur and rice drink sprinkled with cinnamon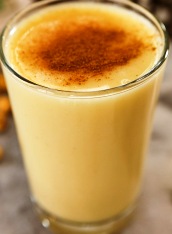 <!Ingredients----->

Ingredients:

1 1/2 Cups of Bulgur
1/4 Cup Rice
1 1/2 Cups Sugar
1 Tsp Spoons of Fresh Yeast
4 Litres Water
Cinnamon powder

<!Method----->

Method:

Soak the bulgur overnight in one gallon of water.
Next day add more water and rice and boil it until soft, so you can mash with a stick blender.
If needed, complete with water to maintain the volume. Add the sugar to the mixture, and stir from time to time.
Take it off the stove and blend more thoroughly.
When the mixture is lukewarm add the yeast.
Leave the mixture for 3-4 days in a warm place (but not hot).
After the 3 or 4 days place in in fridge.
Serve cold sprinkled with cinnamon.