<!Recipie----->

Carrot and Parsley Couscous

Couscous with carrot, parsley, butter, garlic and turmeric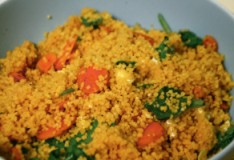 <!Ingredients----->

Ingredients:

2-3 Tblsp Unsalted Butter
2 Cloves Garlic, crushed
1/2 Onion, finely chopped
1 Carrot, thinly chopped
1 Cup Instant Couscous
1 Tblsp Fresh Flat Leaf Parsley, roughly chopped
1 Tsp Ground Turmeric
Salt and Pepper to taste

<!Method----->

Method:

In a medium saucepan, melt the butter.
Add the garlic, onion, carrot and turmeric then cook on a medium heat for 3-5 minutes.
Remove from heat then add couscous, parsley, salt, pepper and 3/4 cup boiling water, mix well.
Cover saucepan and let stand for 10 minutes.
Fluff with a folk then serve immediately.