<!Recipie----->

Couscous with Potato, Carrot and Red Onion

Couscous with ginger, garlic, tumeric and vegtables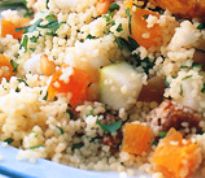 <!Ingredients----->

Ingredients:

2 Cups Couscous
2 Cups Boiling Water
50g Butter, chopped
1 Large Potato peeled, bolied (still firm), diced
1 Large Carrot peeled, bolied (still firm), diced
1/2 Red Onion, finely chopped
1cm fresh Ginger, finely grated
1 Garlic Cloves, crushed
1/2 Tsp Ground Tumeric
1/2 Tsp Sweet Paprika
1/2 Tsp Olive Oil
1/2 Lemon Juice
1/2 Cup Flat Leaf Parsley, coarsely chopped
1/2 Cup Roasted Pine Nuts
Salt and Pepper to taste

<!Method----->

Method:

Add couscous, water and butter in a large bowl, cover and let stand for the liquid to be absorbed.
Fluff the couscous with a fork while stirring in the remaining ingredients.
Place couscous on a serving plate, squeeze on lemon juice, and then serve.