<!Recipie----->

Onion Couscous

Couscous with brown and spring onions, garlic and cumin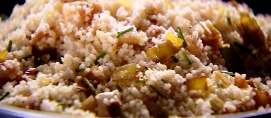 <!Ingredients----->

Ingredients:

1Tblsp Olive Oil
1 Brown Onion, finely chopped
1 Clove garlic, crushed
1 Cup Instant Couscous
Salt and Pepper to taste
1 Tsp Ground Cumin
1 Tblsp Spring Onions, chopped

<!Method----->

Method:

In large saucepan heat the oil then sauté the onions and garlic until lightly golden.
Turn off heat, add 1 cup of hot water, spices and couscous, cover and let stand for 10 minutes.
Mix through spring onions, fluff with a fork then serve.