<!Recipie----->

Saffron and Chickpeas Couscous

Couscous in a zesty saffron chicken broth with chickpeas and pine nuts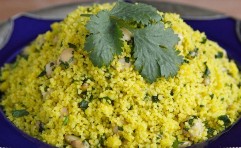 <!Ingredients----->

Ingredients:

1/4 tsp saffron threads
2 1/4 cups chicken broth
1 tsp lemon zest
1/4 cup extra virgin olive oil, divided
2 cups couscous
1/3 cup pine nuts
1/2 cup fresh chopped parsley
1 can chickpeas, drained and rinsed
1/4 cup lemon juice
1/2 tsp cayenne pepper
Salt to taste

<!Method----->

Method:

Add the saffron water into a large saucepan with chicken broth, salt, lemon zest, olive oil and cayenne pepper. Bring to a boil.
Add pine nuts into a frying pan and toast on a low heat stirring frequently.
Add couscous to the boiling broth and stir on a low heat for 8-10 minutes till tender.
Add toasted pine nuts, parsley and chickpeas to couscous.
Use a fork to fluff the couscous and then serve.