<!Recipie----->

Tomato Couscous with Herbs

Couscous in tomato, paprika, garlic and chili with parsley and mint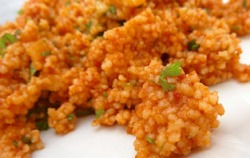 <!Ingredients----->

Ingredients:

200g Couscous
1 Cup Vegetable Stock
1 Onion, finely chopped
2 Garlic Clove, chopped
2 Tbsp Lemon Juice
2 Tbsp Tomato Paste
1/4 Cup Olive Oil
1 Tsp Paprika Powder
1 Tsp Chili Powder
1/4 Cup Fresh Flat Leaf Parsley, roughly chopped
1/4 Cup Fresh Mint Leaves, roughly chopped
Salt to taste

<!Method----->

Method:

Bring the vegetable stock to a boil.
Place the couscous in bowl and pour over the hot stock and stirring using a fork then allow for the stock to be absorbed.
In large frying sauté the garlic and onions until lightly golden then stir in the chilli powder, paprika and tomato paste cook for 3-5 minutes stirring continually then remove from heat.
In a large bowl combine all the ingredients then serve.