<!Recipie----->

Algerian Semolina Pudding

Semolina with butter, honey and cinnamon garnished with almonds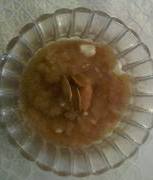 <!Ingredients----->

Ingredients:

1 cup of ground semolina
3 tablespoons unsalted butter
2 tablespoons of natural set honey
1 tblsp ground cinnamon
Garnish with almonds or wallnuts

<!Method----->

Method:

In a saucepan on a medium heat cook semolina until evenly toasted and golden then put into a bowl and set aside.
Melt butter in a pan, once melted remove from the heat and stir in the honey.
Return the semolina back into the pan and mix to combine with the butter and honey then add the cinnamon.
Serve warm garnish with almonds or wallnuts.