<!Recipie----->

Banana and Coconut Couscous

Creamy banana, coconut, and cinnamon couscous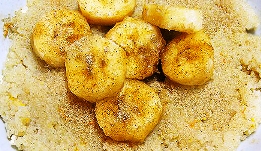 <!Ingredients----->

Ingredients:

2 Bananas, peeled, sliced
1 1/2 Cup Plain Couscous
1/2 Cup Full Fat Cream
2 Cups Coconut Milk
1/2 Cup Shreaded Coconut
1/4 Cup Sugar
1/4 Tspoon Salt
2 Tsp Orange Zest
2 Tsp Cinnamon, plus extra for garnish

<!Method----->

Method:

Add the coconut milk, sugar and salt to a medium saucepan over medium-low heat and bring to a boil.
Add couscous, shreaded coconut, orange zest and cinnamon then simmer for 1-2 minute.
Remove from heat, cover saucepan and let sit for 5 minutes.
Fluff couscous with a fork then stir in bananas (save a few slices for garnish).
Mix through cream.
Serve garnished with banana slices and sprinkle on a little cinnamon.