<!Recipie----->

Banana Rice Pudding

Rice pudding with banana, vanilla, cardamom and nutmeg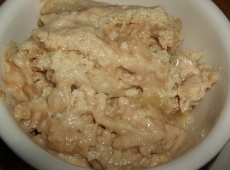 <!Ingredients----->

Ingredients:

1 Tsp Vanilla Extract
5 Cardamom pods, whole
1 Cinnamon Stick
1 Tsp Ground Nutmeg
1 Cup Rice
3 Cups Milk
3 Bananas, ripe and mashed
1/4 Cup Caster Sugar

<!Method----->

Method:

In medium sauce pan combine all the ingredients.
Bring mixture to a boil then immediately reduce to a low heat simmer.
Stir constantly and cook until rice is tender and mixture is creamy, 20-30 minutes.
Add a little water to keep moist and a creamy consistency.
Remove cardamom pods and cinnamon stick then serve.