<!Recipie----->

Sweet Couscous with Pomegranate

Couscous with pomegranate seeds, cinnamon and pistachio nuts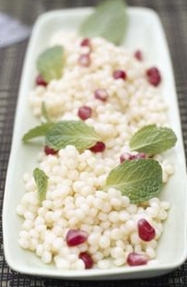 <!Recipie Ing & Meth--------->

Ingredients:

Seeds from 2 large pomegranates
1/4 cup caster sugar
1 cup fine-grain couscous
1 cup boiling water
2 tbsp orange juice
1 tbsp orange flower water
1 tbsp extra-virgin olive oil
1 tbsp unsalted butter, melted
2 tbsp pistachios, peeled & crushed
1/2 teasp ground pepper
1/2 teasp ground cinnamon
Mint leaves for garnish



Method:

In a large bowl mix the pomegranate seeds with orange juice, orange flower water, pepper and caster sugar then cover and refrigerate for two hours.
Rinse couscous with cold water then strain well, combine into bowl and mix thoroughly.
Pour into mixture boiling water, stir in until water is absorbed then stir in olive oil.
Mix in butter and pomegranate seed then fluff mixture with a fork.
Serve sprinkled with cinnamon and crushed pistachios nuts and garnish with mint leaves.