<!Recipie----->

Egyptian Belila

Whole grain wheat in milk with cinnamon and nuts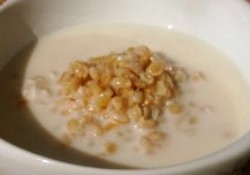 Belila can be served as a breakfast or as a dessert
<!Ingredients----->

Ingredients:

1 Cup Whole Grain Wheat
5 Cups Water
2 Cups Milk
4 Tbsp Sugar
1/2 Tsp Ground Cinnamon for each serving bowl (optional)
Sliced Almonds or Crushed Walnuts for garnish (optional)

<!Method----->

Method:

Place the wheat in a bowl, cover with water then leave over night to soak.
Place wheat in a saucepan and cover with water over a medium heat, bring it to boil then lower heat and simmer 10-15 minutes until the wheat has softened (add more water if required) then drain.
Return saucepan to a low heat, add milk and sugar mix well and bring to a boil.
Take Belila off heat and place into small serving bowls.
Add the almonds or walnuts and cinnamon on top of each serving bowl if desired.
You can serve it either hot or cold.