<!Recipie----->

Iraqi Date and Walnut Cake

Spicy cake made with brewed tea, dried dates and topped with crushed walnuts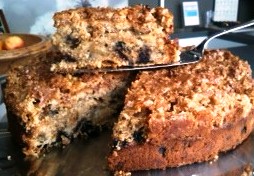 <!Ingredients----->

Ingredients:

1/2 Cups Dried Dates
1 1/2 Cups Brewed Tea
1/2 Cup Oil
1 1/2 Cups Granulated Sugar
3 Eggs
1 1/2 Tsps Vanilla
2 1/2 Cups Allpurpose Flour
2 Tsps Baking Powder
1/2 Tsp Salt
1 Tsp Cinnamon
1/4 Tsp Ground Nutmeg
1/4 Tsp Ground Cloves
1 Cup Crushed Walnuts (for the bottom of the pan)

<!Method----->

Method:

Preheat the oven to 180c.
Place dates and tea in a small pot, bring to a boil then simmer for 2-3 minutes to soften.
Drain the dates and reserve the liquid.
In a mixing bowl add the oil, sugar, eggs, and vanilla then beat for 2 minutes.
Sift in flour, baking powder, salt, cinnamon, nutmeg and cloves then mix well.
In two batches add in the tea liquid mixing well then mix in the dates.
Grease and flour an 8 inch capacity round cake pan and then shake off excess flour.
Place crushed walnut at the bottom of the pan then pour the mixture over of the walnuts.
Bake cake for about 40 minutes or until the surface feels firm to the touch.
Let stand for 10 minutes then invert onto a cake plate and serve.