<!Recipie----->

Lebanese Molasses and Walnut Cake

Molasses cake with cardamom and cinnamon centered with crushed walnuts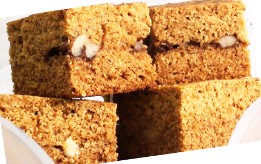 <!Ingredients----->

Ingredients:

3 Cups Plain Flour
1 Tsp Baking Powder
1/2 Tsp Baking Soda
1 Tsp Ground Cardamom
1 Tsp Ground Cinnamon
1/4 Cup Oil
1/4 Cup Milk
1 Cup Molasses
1/2 Cup Walnuts, roughly crushed

<!Method----->

Method:

In a large bowl add the flour, baking powder, baking soda, cardamom, cinnamon, oil, milk and molasses combine well to make consistent dough.
Divide the dough into 2 equal halves.
Grease a 20x30cm baking tin then flatten one half of the dough on the bottom then sprinkle the walnuts on top the place the other of the other half of the dough on top.
Bake at 175c for around 30 minutes.
Allow to cool, remove cake from tin then serve.