<!Recipie----->

Meghli

Ground rice with spice, nuts, rasines and coconut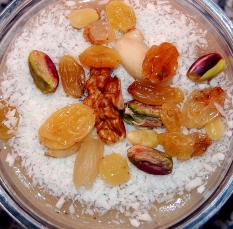 <!Recipie Ing & Meth--------->

Ingredients:

1 Cups Rice
6 Cups Water
2 Cups Sugar
1 Tbsp Caraway Seed
1 Tbsp Anise Seed
1/4 Tsp Ginger Powder
Nuts, Rasines and Coconut for garnish



Method:

Grind rice in a mortar until fine and powdery then grind spices separately set aside in a bowl.
Mix rice with two cups of cold water, add sugar and spices to make a smooth paste.
In a saucepant boil the rest of the water then add the rice mix and ginger.
Boil for an hour, stirring occasionally, until mixture coats the spoon.
Pour into individual serving bowls.
Garnish with your choice of nuts, rasines and coconut.