<!Recipie----->

Saudi Banana Masoob

Ripe banana with cnnamon, almonds, raisins, cream and honey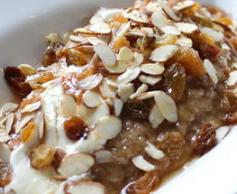 <!Ingredients----->

Ingredients:

3-4 Very Ripe Bananas
2-3 Flatbreads
1 Tblsp Caster Sugar
1 Tsp Ground Cinnamon
2 Tblsp Sliced Almonds
1/4 Cup Golden Raisins
1 Cup Whipped Cream
3 Tblsp Honey

<!Method----->

Method:

Peel and mash the bananas in a medium sized bowl.
In a blender add the flatbread to break up finely then add the banana, sugar and cinnamon to blend and combine.
Remove from the blender then add the raisins, almonds, whipped cream and honey on top of the banana mixture and serve.