<!Recipie----->

Syrian Bread and Cream Dessert

Bread pudding with orange blossom water and pistachio nuts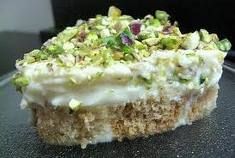 <!Recipie Ing & Meth--------->

Ingredients:

15 slices bread
2 cups white sugar
1 1/2 cups water
2 tablesp orange blossom water
1 tablesp rose water
400ml thickened cream
2 tablesp corn starch
1 cup chopped pistachio



Method:

Place slices of bread in an oven tray and toast until lightly golden, remove then place in a large bowl.
Put, in a medium saucepan, 3 tablespoons of sugar on high heat and stir constantly until it turns brown, then pour water and the remaining sugar.
Stir to boil and dissolve, remove the sugar from the heat and add orange blossom and rose water.
Stir then pour the syrup on the roasted bread and with a big spoon, mix the bread with syrup until it combines.
Spread the bread in a big serving platter some 13-inches square and set it aside.
Place cream and corn starch in a saucepan on medium heat and stir constantly to boil and thicken, then remove from heat and add blossom water.
Stir well and pour cream on the brown bread, and sprinkle the top chopped pistachio, then serve.