<!Recipie----->

Syrian Semolina Cheese Cake

Creamy semolina and cheese wrapped in filo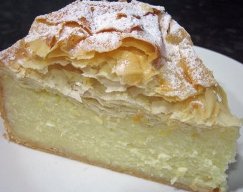 <!Ingredients----->

Ingredients:

6 Large Filo Pastry Sheets
500ml Milk
200ml Double Cream
175g Sugar
150g Semolina
2 Tblsp Orange Blossom Water
500g White Brine Cheese
2 Tblsp Butter
Icing Sugar for dusting

<!Method----->

Method:

Heat the oven to 160c.
In a pot add the milk, cream and sugar stir while heating till all the sugar has melted then add the semolina and orange blossom water.
Before boiling point add all the cheese and whisk till all the melted cheese is mixed in.
Take of the heat and keep whisking for few minutes till it is smooth and well mixed.
Melt the butter and brush the base and edges of a 24cm (9inch) spring form cake tin.
Arrange your filo pastry sheets so half of it is inside the tin and the rest outside to be fold on top.
Make sure the pastry covers the whole tin. You need to brush every layer with butter to stick in place.
Tip the cheese mixture. Wrap the Filo sheets on top in a random wrinkled pattern. Again brush with butter.
Bake in the oven for one hour till nice and golden. Let cool down for few hours then put in the fridge over night.
Dust the cake with icing sugar then serve.