<!Recipie----->

Syrian Mamoonia Puddding

Toasted semolina with butter and sugar decorated with almonds and cinnamon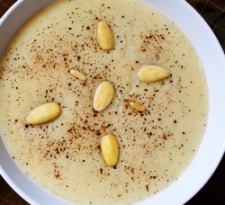 <!Ingredients----->

Ingredients:

3 Tblsp Butter
1 Cup Coarse Semolina
4-5 Cups of Water
1 1/2 Cups Sugar
Sliced Almonds and Cinnamon for decoration

<!Method----->

Method:

In a pot add the water and sugar and bring to a boil.
In another pot melt the butter.
Add the semolina to the melted butter and mix until the semolina is lightly golden.
Add the toasted semolina to the water carefully while mixring continuously until the mixture thickens.
Turn off heat and cover the pot for 10 min.
Serve the Mamoonia pudding decorated with almonds and dusting with cinnamon.