<!Recipie----->

Turkish Asure (Noah's) Pudding

Barley, rice, legumes, raisins, dried apricots and figs pudding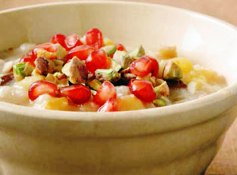 <!Ingredients----->

Ingredients:

1/2 Cup Uncooked Pearl Barley
1 Tblspoon Long Grain Rice
4 Cups Water
1/4 Tspoon Salt
1/2 Cup Sugar
1/2 Cup Canned Chickpeas, rinsed and drained
1/2 Cup Canned Kidney Beans, rinsed and drained
1/4 Cup Raisins
1/4 Cup Dried Apricots, finely chopped
1/4 Cup Dried Figs, finely chopped
1 Tblspoon Rose Water
3 Tblsp chopped Almonds
3 Tblsp chopped Pistachios
3 Tblsp Pomegranate Seeds

<!Method----->

Method:

Place the barley and rice in a medium bowl, and cover with water and soak overnight, next day drain.
Place barley mixture with 4 cups water and salt in a large saucepan then bring to a boil.
Cover, reduce heat then simmer 25 minutes.
Remove from heat, drain in a colander over a bowl to reserve 2 1/4 cups of the cooking liquid.
Place 1 1/2 cups of the barley mixture and 1/4 cup reserved liquid into a food processor and process 2 minutes.
Return pureed mixture to the saucepan then add the remaining barley mixture, remaining 2 cups reserved liquid, sugar, chickpeas, kidney beans, raisins, apricots and dried figs.
Bring to a boil, reduce heat then simmer for 30 minutes.
Remove from heat, stir in rose water.
Place in small serving bowls then garrnish with the nuts and pomegranate seeds.