<!Recipie----->

Turkish Pear and Walnut Cake

Cake with pear, walnut sultanas, cinnamon and honey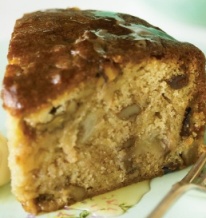 <!Ingredients----->

Ingredients:

3 Large Pears, Peeled, cored, coarsely chopped
1/2 Cup Walnut Halves, coarsely chopped
1/4 Cup Pear Juice
1 1/2 Cups Plain Flour
150g Butter
1 1/4 Cups Caster Sugar
2 Eggs
2 Tsp Baking Powder
1/3 Cup Sultanas
2 Tsp Ground Cinnamon
2 Tblsp Honey
Melted Butter, to grease pan

<!Method----->

Method:

Preheat oven to 170c.
Brush a round 20cm cake pan with melted butter to lightly grease then line the base and side with baking paper.
Using an electric beater beat the butter and sugar in a medium bowl until pale and creamy.
Add the eggs, 1 at a time, beating well after each addition until well combined.
Sift in together the flour and baking powder over the mixture and gently fold in until combined then mix in the pear juice.
Add the pears, walnuts, sultanas and cinnamon then stir well to combine.
Spoon the cake mixture into the prepared pan and smooth off the surface.
Bake in oven for 1 and 1/4 hours or until a skewer inserted into the centre comes out dry.
Brush the cake with honey then set aside the pan for 10 minutes to cool.
Turn over onto a wire rack to cool completely then serve.