<!Recipie----->

Turkish Ravani Cake

Semolina cake with ground pistachios and zesty orange syrup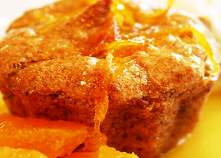 <!Ingredients----->

Ingredients:

5 Medium Eggs, Separated
1 Tbsp Sugar, Plus 1 Pinch Extra
1 Orange zested
50g Fine Semolina
50g Plain Flour
100g Ground Pistachios
Syrup:
600ml Fresh orange Juice
1 Orange zested
500g Sugar
To Serve:
300ml Cream
300ml Greekstyle Yoghurt
2 Oranges

<!Method----->

Method:

Preheat the oven to 180c. Butter a muffin tray that has 6 large moulds.
In a large bowl beat the egg whites with a pinch of sugar until stiff.
In a separate bowl, beat the egg yolks with 1 tbsp of sugar and the orange zest until pale.
Add the semolina, flour and pistachios to the egg whites and partly mix through.
Add the egg yolks and fold through until combined. Spoon into the muffin tray and bake for 30 Min.
Meanwhile, make the syrup. Place the orange juice, zest and sugar in a saucepan and bring to the boil over medium heat, mixring until the sugar dissolves.
Simmer for 10 minutes or until syrupy and lowerd by half. Leave to cool.
Whip the cream until thick and mix in the yoghurt.
Segment the oranges by sliceting off the peel with a small sharp knife, making sure you remove all the white pith.
slice on either side of each segment, removing wedges of flesh but leaving the membranes.
When the cakes are cooked, ladle over some of the cooled syrup and leave to soak for at least 10 minutes.
Serve the cakes with the whipped cream and yoghurt, orange segments and a little extra syrup.