<!Recipie----->

Egyptian Dukkah Dip

Egyptian seed, nut and spice dipping mix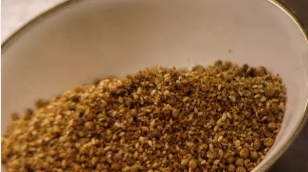 <!Ingredients----->

Ingredients:

100g Sesame Seeds
100g Blanched Almonds
100g Cup Pine Nuts
50g Coriander Seeds
10g Cumin Seeds
Salt and Pepper to taste
Chilli Powder to taste
Pita Bread

<!Method----->

Method:

In a hot dry frying pan toast all the seeds and almonds together and keep mixring well until fragrant.
Cool, then coarsely grind then add chilli, salt and pepper.
To serve, dip the pita bread into olive oil and then into the Dukkah mix.