<!Recipie----->

Garlic and lemon cream dip

Sour cream, garlic, cumin and lemon dip garnished with parsley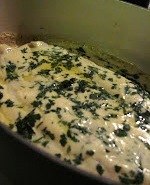 <!Ingredients----->

Ingredients:

1 cup sour cream
4 cloves garlic, crushed
1/4 Tsp Cumin powder
2 Tblsp lemon juice
Salt and pepper to taste
1/4 Tsp chilli powder (optional)
Olive oil for drizzle
Flat leaf parsley, finely chopped, for garnish

<!Method----->

Method:

Mix all the ingredients together.
Refrigerate overnight for full flavour.
Serve drizzled with olive oil and garnish with parsley.