<!Recipie----->

Moroccan Kidney Bean Dip

Mashed kidney beans with garlic, cumin, parsley and cayenne pepper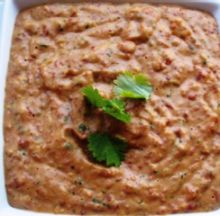 <!Ingredients----->

Ingredients:

2 Cups Cooked Red Kidney Beans
3 Cloves Garlic
1/4 Teaspoon Salt
1/4 Tsp Dried Chili Flakes
1/4 Tsp Ground Cumin
1/2 Cup Flat Leaf Parsley, finely chopped
1/4 Cup Lemon Juice
1 Tblsp Olive Oil
1 Tsp Ground Cayenne Pepper

<!Method----->

Method:

Mash the beans and mix well with all the ingredients.
Add a little water if you want to make the mixture smoother.
Let stand for 30 minutes to allow the flavors to blend then serve.