<!Recipie----->

Muhammara

Roat capsicums, walnuts, cumin and chili dip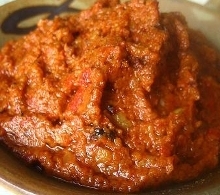 <!Recipie Ing & Meth--------->

Ingredients:

3 medium red capsicums with steams and seeds removed
1 medium onion finley chopped
1/2 cup olive oil
1/2 cup breadcrumbs
1/2 cup walnuts crushed
1 tablesp chilli powder
1/2 teasp cumin
2-3 tablwsp water



Method:

Preheat oven 180c.
On a lightly greased baking sheet, place rcapsicums. Roast for approximately 15 minutes.
Remove from the oven and peel off skin.
In a small, lightly greased (use olive oil) saucepan, sauté with the chilli and cumin until the onion are golden.
In a food processor, puree the breadcrumbs and walnuts, add water to create a smooth paste.
Add the onions, capsicums and olive oil into the food processor and bland until even.
Serve with Lebanese pita bread.