<!Recipie----->

Turkish Cacik Dip

Spinach, yoghurt, lemon and garlic dip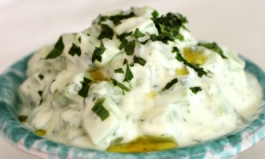 <!Ingredients----->

Ingredients:

300g Baby Spinach Leaves
1 Cup Greek Natural Yoghurt
3-4 Garlic Cloves, minced
Juice of Half a Lemon
Salt and Pepper to taste
1 Tblsp Flat Leaf Parsley, finely chopped
1 Tblsp Olive Oil

<!Method----->

Method:

Cover spinach with boiling hot water for 1 minute until spinach wilts then remove.
Squeeze spinach to drain excess water.
Finely chop spinach.
Combine spinach, yoghurt, garlic, lemon, salt and pepper mix well.
Cover and chill in fridge for at least one hour.
Serve garnished with parsley and drizzled with olive oil.