<!Recipie----->

Turkish Bulgur Meatballs

Meatballs with bulgur, basil, cumin and lennon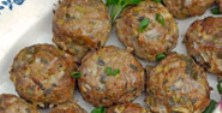 <!Ingredients----->

Ingredients:

500g Ground Lamb
1 Cup Bulgur, boiled soft, drained
1 Tsp Dried Basil Flakes
1 Onion, finely chopped
1 Egg, beaten
2 Garlic Cloves, minced
1 Tsp Ground Cumin
Juice of 1 Lemon
Salt and Pepper to taste
1/4 Cup Fresh Flat Leaf Parsley, roughly chopped
Vegetable Oil for pan frying

<!Method----->

Method:

In a large bowl mix all the ingredients to combine well.
Make the mince mixture into 5cm balls (wet your hand so the meat doesn't stick to your hands).
In a large frying pan heat the oil then on a medium heat fry the balls until cooked through.
Squeeze more lemon juice on before serving.