<!Recipie----->

Egyptian Beef and Potato Bake (Saneyet Batartis)

Diced beef baked with potatos, bell peppers and peas in a tomato and beef sauce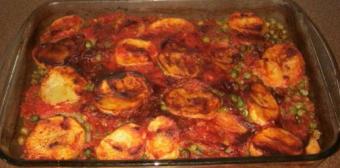 <!Ingredients----->

Ingredients:

500g Diced Beef (boneless)
4-6 Potatoes, peeled, sliced
1 Large Onion, roughly chopped
3 Cloves Garlic, minced
3 Medium Tomatos, diced
1 Bell Pepper, chopped
1/2 Cup Peas
1 Tblesp Vegetable Oil
3 Tblsp Tomato Paste
1 Tspoon Cumin
Salt and Pepper to taste

<!Method----->

Method:

Boil meat for 45-60 min, keep covered in water, add more water as it evaporates, reserve stock, set-aside.
Pre-heat oven at 180c.
In a large baking dish add meat, stock, potatoes, onion, garlic, bell pepper, peas, oil and spices.
Place in the oven and bake for 45 min or until the potatoes are red and tender.
Can be served with rice.