<!Recipie----->

Egyptian Beef, Taro and Silverbeet Stew

Stew with beef, taro, silverbeet, onion and garlic served with rice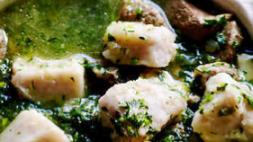 <!Ingredients----->

Ingredients:

1kg Beef, cut into cubes
500g Taro, peeled, cut into 3 cm cubes
2 Tbsp Olive Oil
1 Large Onion, diced
4 Silverbeet Leaves, thinly sliced
4 Garlic Cloves, crushed
1 Tsp Ground Coriander
Salt and Pepper to taste
Rice to serve (steamed or boiled)

<!Method----->

Method:

Heat 1 tablespoon of oil in a large saucepan over high heat then add onion, garlic and beef.
Cook stirring for 3-4 minutes.
Add 1.5 litres water, ground coriander, salt and pepper and bring to the boil then simmer on a low heat for 20-30 minutes.
Add taro and cook for another 10-20 minutes until the beef and taro are tender.
Add silverbeet and cook for another 10-15 minutes until the silverbeet has wilted.
Serve with rice.