<!Recipie----->

Kibbeh Sanieh

Flat Kibbeh layered and oven baked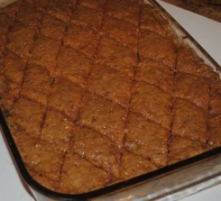 <!Ingredients----->

Ingredients:

Filling:
800 grams lamb or beef mince
4 large brown onions finely chopped
1 tsp baharat (seven spice mix)
½ tsp cinnamon (optional)
1 tsp salt
1½ tsp finely ground black pepper
3 tbsp roasted pine nuts
3 tbsp olive oil
1 tbsp butter

Kibbeh:
1½ cup fine cracked wheat (burghul)
800 grams fat free beef mince (or lamb), minced twice
2 tsp salt
3 tsp cracked pepper
1 tsp baharat spice mix
2 large brown onions, grated
Bowl of cold water to dampen hands
1 tbsp olive oil
Square or oval flat tray with 2cm side

<!Method----->

Method:

Place oil and mince into a large frying pan over a low heat. Break it up constantly until it is well separated and loose and the moisture is starting to evaporate. Add the spices, seasoning and chopped onion and keep stirring.
In a small pan melt the butter, add the pine nuts and roast lightly. When the pine nuts are starting to brown in the butter, add to the meat mixture. Keep mixing until the onion becomes soft. Set aside to cool.
Soak the burghul in a large mixing bowl with 1 cup of water for at least 5 mins or overnight if possible. Drain well. Add salt, pepper, baharat, grated onion, and mince and mix well by hand till it forms into a paste. You may need a little water to keep the mixture soft. If you have the time, cover the meat and let it rest for 30 mins.
Grease the tray well. Dampen hands and layer the tray with the kibbeh by forming small balls in your hand then flattening them evenly in the tray.
Add the cool filling evenly across the kibbeh, pressing it down a little to keep the layers tight.
Sandwich with the top layer of kibbeh the same way. Flatten evenly, make a whole in the middle with your finger and cut into slices or servings before baking. Sprinkle with a little olive oil and bake for 25 minutes in a pre-heated moderate oven.
Serve with yoghurt and salad.