<!Recipie----->

Kofta Skewers

Meat skewers with fresh parsley, mint, chilli and lemon zest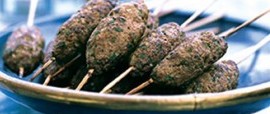 <!Ingredients----->

Ingredients:

500g Lamb or Beef Mince
1/2 Red Onion, finely chopped
2 Tbsp Parsley, finely chopped
2 Tbsp Mint, finely chopped
1 Egg
2 Tsp Ground Cumin
2 Garlic Cloves Crushed
1 Long Red Chilli, finely Chopped
1/2 Lemon Zest finely grated
2 Tsp oil for frying
Skewers

<!Method----->

Method:

In a large bowl, combine the meat, onion, parsley, mint, egg, cumin, garlic, chilli and lemon Zest.
Roll into about eight small sausage shaped (about 10cm long). Mould around skewers and chill for 10 mins.
Heat oil in a large frying pan on high. Cook kebabs in two batches for 6-8 mins, turning occasionally until cooked through.