<!Recipie----->

Lamb and Cannelloni Beans Stew

Lamb and beans in tomato baharat stew garnished with parsley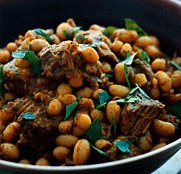 <!Ingredients----->

Ingredients:

500g Dried Cannelloni Beans
1kg Boneless Shoulder or Leg of Lamb
1 Tblsp Baharat
1 Cinnamon Stick
9 Cups Water
2 Tblsp Olive Oil
2 Medium Onions, chopped
4 Garlic Cloves, finely chopped
2 Tsps Salt
3/4 Tsp Black Pepper
3 Tblsp Tomato Paste
9 Cups Water
1/2 Cup Fresh Flat Leaf Parsley, roughly chopped

<!Method----->

Method:

Cover beans with cold water in a bowl and soak at room temperature at least 8 hours. Drain well in a colander.
Bring lamb, baharat, and water to a boil in a large pot, then simmer mixture, covered, until meat is almost tender about 1 hour.
Add beans and cook, uncovered, until beans are tender, about 1 hour more.
Meanwhile, in large saucepan heat the oil and sauté the garlic and onions until lightly golden then stir in tomato paste and cook stirring for 2 minutes.
Add the tomato-onion mixture to the pot simmer for 10-15 minutes add parsley then serve.