<!Recipie----->

Algerian lamb el halu

Sweet lamb stewed with ginger, prunes and almonds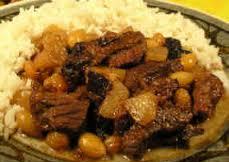 <!Recipie Ing & Meth--------->

Ingredients:

2 pounds Stewing lamb, cubed
1/2 teaspoon Cinnamon
1/2 teaspoon Turmeric
1/2 teaspoon Ground ginger
1/4 cup Oil or butter
2 cups Water
Few strands Saffron (optional)
1 cup Prunes
1/4 cup Raisins
1/4 cup Sugar
1-2 tablespoons Orange blossom water (optional)
1/2 cup Blanched, sliced almonds, toasted



Method:

In a large bowl, mix together the lamb, cinnamon, turmeric and ginger. Heat the oil or butter in a large pot over medium-high flame and brown the lamb in batches, removing each batch to a plate before adding the next.
Return all the browned meat to the pot and add the water and saffron. Bring to a boil, then reduce heat to medium-low and simmer for about 45 minutes, or until the meat starts to get tender.
While the meat is simmering, cover the prunes and raisins with hot water and set aside to let them plump up for at least 30 minutes.
After the meat has been simmering for 45 minutes, drain the fruit and add it to the meat along with the sugar and the orange blossom water. Add a little more water if needed and simmer for another 30-40 minutes.
Garnish with toasted almonds and serve with couscous, pita bread or rice.