<!Recipie----->

Lamb shank Tajine

Lamb shanks in a spicy tomato, chickpea and carrot sauce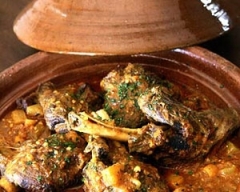 <!Recipie Ing & Meth--------->

Ingredients:

4 lamb shanks
4 cups beef stock
400g can diced tomatoes
2 large carrots, chopped
1 tablesp olive oil
2 brown onions, chopped
2 garlic cloves, crushed
1 tablesp ground ginger
2 teasp ground cumin
2 teasp sweet paprika
1/2 cup chickpeas
1/2 cup flat leaf parsley, chopped



Method:

Preheat oven to 160C.
Heat the oil in a saucepan then add the onions and garlic and sauté until soft then add ginger, cumin and paprika and cook for another minute.
Add shanks, pour in beef stock, add tomatoes, carrots, chickpeas and bring to a boil then remove from heat.
Put mixture into Tajine, cover and bake for 2 hour until lamb is tender and falling off the bone.
Mix through parsley and serve. Can be served with couscous or rice.