<!Recipie----->

Lebaese Meat, Potato and Carrot Stew

Spicy meat stew with potato, carrot and basil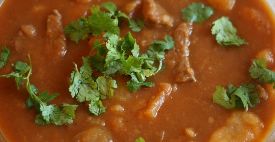 <!Ingredients----->

Ingredients:

1kg Diced Beef or Lanb
500kg Potatoes, peeled, cubed
2 Large Carrots, sliced
3-4 Cloves Garlic, crushed
1 Large Onion, finely chopped
2 Tblsp Olive Oil
2-3 Tsps of Tomato Paste
1 Cup of Coriander Leaves, finely chopped
Salt and Pepper to taste
1 Tsp Allspice
1 Tsp Paprika Powder
2 Tsp Dried Basil Flakes
6-7 Cups Water
Flat Leaf Parsley, finely chopped for garnish
Cooked Rice for serving

<!Method----->

Method:

In a large pot, heat the olive oil then fry the meat with a little salt for 8-10 minutes until medium-well cooked.
Add the garlic, onions, coriander leaves, allspice and pepper then sauté well together for another 3-4 minutes.
Add the water, bring to a boil then cover and let simmer on low heat for 2 hours.
Add the potatoes, carrots, tomato paste and basil, stir well, then let simmer for another 30 minutes remaining time.
Garnish with parsley then serve hot with a side of rice.