<!Recipie----->

Lebanese Makaneh Sausages

Spicy lebanese sausages with beef, lamb and pine nuts stuffing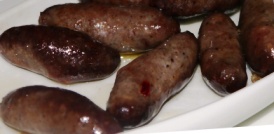 (Aslo spelt as Makanek)
<!Ingredients----->

Ingredients:

Aprox. 1.5 Meters of Chitterlings (Lamb Small Intestines)
400g of Ground Beef
100g of Fatty Ground Lamb
1/4 Cup of Pine Nuts
1/4 Tsp Ground Coriander
3 Cloves Garlic, finely minced
1/4 Tsp Ground Nutmeg
1/4 Tsp Ground Cumin
1/4 Tsp Black Pepper
1/4 Tsp Cayenne Pepper Powder
1/8 Tsp Ground Cloves
1/4 Tsp Ground Fenugreek
3/4 Tsp of Salt
1/2 Tblsp White Vinegar
1/2 Tblsp Lemon Juice
1/2 cup of Water

<!Method----->

Method:

First prepare the chitterlings, wash and clean thoroughly by opening and running cold water through then set aside.
Place the beef, lamb, pine nuts and spices into a food processor and process until the meat is very finely ground and the spices and pine nuts are well blended.
Place meat mixture into a large bowl then add the vinegar, lemon juice and water. Knead mixture for 2-3 minutes.
Tie one end of the chitterlings with cotton thread then fill with the stuffing mixture, shape into sausages, twist about every 10cm.
Refrigerate for 1-2 hour to become cold.
Cuts sausages at twists.
Cook the sausages, can either be grilled or fried, serve hot.