<!Recipie----->

Libyan Lamb and Potato Sandwiches

Fryed then baked potato filled with meat as sandwiches (Batata Ma'battina)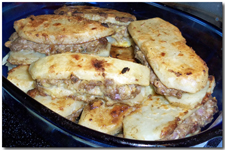 <!Ingredients----->

Ingredients:

6 Potatoes, peeled and thinly sliced
1kg Ground Lamb
1 Bunch Fresh Coriander, chopped
2 Onions, finely chopped
2 Tomatoes, finely chopped
Salt and Black Pepper to taste
1/2 Chili Pepper, finely chopped
1/4 Tsp Ground Cinnamon
4 Eggs, beaten
Flour For dusting
Vegetable Oil For Frying

<!Method----->

Method:

Preheat oven to 175c.
Peel potatoes and rinse under cold water then slice lengthwise into thin slices. In a bowl, combine ground lamb, parsley or coriander, onions, tomato, salt
and black pepper, chili pepper and cinnamon.
Mix well and form into a ball.
Take a small amount of meat mixture and place between two slices of potato so that it resembles a sandwich with meat in the middle.
Repeat with left over potato slices and meat mixture.
Heat a few tablespoons of vegetable oil in a frying pan then dip potato sandwiches in beaten eggs before coating evenly in flour.
Fry for around 3 min per side or until crisp and golden then transfer to a lightly greased baking dish.
Bake sandwiches for around 15-20 min or until potatoes are tender then serve.