<!Recipie----->

Moroccan Leg of Lamb

Whole Leg of Lamb done with butter, garlic, cumin, saffron and turmeric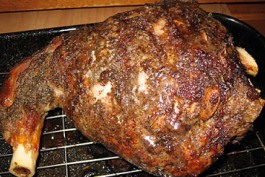 <!Ingredients----->

Ingredients:

1 Whole Leg of Lamb
4 Tblsps Soft Unsalted Butter
3 or 4 Cloves of Garlic, Pressed
2 Tsps Salt or to taste
1 Tsp Pepper or to taste
1 Tsp Cumin
1/2 Tsp Saffron Threads, crushed
1/4 Tsp Turmeric
1 Tblsp Olive Oil

<!Method----->

Method:

Trim excess fat from the leg of lamb, and make 12 or more cuts deep into the meat with the tip of a sharp knife.
Combine the butter with the garlic, spices and olive oil.
Spread the mixture over the entire leg of lamb, working some butter into the incisions made with the knife.
Place the leg of lamb in a roasting pan, and proceed with one of the roasting methods below.
Preheat an oven to 240c Wrap the exposed lower leg of the lamb in foil to prevent burning.
Add 1/2 cup of water and a few tablespoons of olive oil to the pan, and roast the lamb, uncovered, for 1 to 2 hours, basting frequently, until the lamb is well browned and the juices run clear when a knife is inserted deep into the meat.
If the meat has browned before the juices are clear, cover the meat with a loose foil to prevent further darkening.
Transfer the lamb to a platter and allow it to rest for at least 10 minutes before serving.
If desired, the juices can be poured over and around the lamb.