<!Recipie----->

Rice Meatballs

Rice meatballs in a tomato, garlic and oregano sauce sprinkled with feta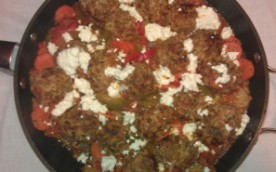 <!Ingredients----->

Ingredients:

500g Ground Beef or Lamb
1/2 Cups Rice (rinse the rice under warm water to wash off the starch)
1 Onion, finely chopped
50g Breadcrumbs
1 Tblsp Tomato Paste
1 Egg, beaten
2 Garlic Cloves, minced
Salt and Pepper to taste
1 Tblsp Olive Oil
400g Can Diced Tomatoes
1 Tsp Dried Oregano Flakes
1/2 Cup Feta Chesse

<!Method----->

Method:

In a large bowl mix the mince, rice, onion, breadcrumbs, tomato paste, egg, parsley, 1 minced garlic clove and seasonings to combine well.
Make the mince mixture into 5cm balls (wet your hand so the meat doesn't stick to your hands).
In a large frying pan heat oil and fry the balls to sear them (leave still raw on the inside).
Add the diced tomatoes, 1 minced garlic clove, oregano and water, cover and cook for 20 mins to 30 mins or until the meatballs are fully cooked and the sauce has thickened.
If the sauce looks too thick or rice needs more water add another 1/2 cup of water halfway through the cooking.
Sprinkle with feta cheese just before serving.