<!Recipie----->

Stuffed Zucchini

Zucchini stuffed with minced meat and rice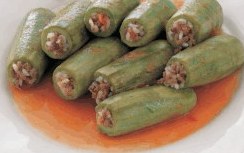 <!Recipie Ing & Meth--------->

Ingredients:

Stuffing:
300g minced beef or lamb
1 1/2 cups rice
1 small onion chopped
2 small tomatoes chopped
1 teasp dried mint
1 teasp mixed spices
2 tablesp olive oil
Salt and pepper to taste

Sauce:
1 450g tin of diced tomatoes
4 tablesp tomato paste
2 cups chicken stock
1 tablesp lemon juice
1 tablesp butter
Salt and pepper to taste



Method:

Hollow out the Zucchinis, wash and drain well.
Mix all the stuffing ingredients together in a large bowl.
Stuff each zucchini until 3/4 full.
Place the zucchinis in a deep pot and add all the sauce ingredients, bring to the boil then cover and simmer for 1 1/2 hours or until zucchini are cooked and sauce has thickened.
Best served hot.