<!Recipie----->

Sweet and spicy lamb shanks

Lamb shanks in honey, turmeric and vegtables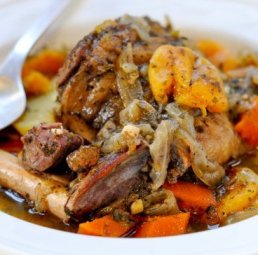 <!Recipie Ing & Meth--------->

Ingredients:

4 lamb shanks
2 brown onions chopped
1 red chilli, seeded and chopped
3 cloves garlic, minced
1 tablesp grated fresh ginger
1 tablesp ground paprika
1 teasp ground black pepper
1 teasp ground cinnamon
1 teasp ground turmeric
1/2 teasp chilli powder
3 tablesp olive oil
500g carrot cut into chunks
500g potatoes cut into chunks
500g pumkin, cut into chunks
400g chopped tomatoes
2 tablesp honey
2 bay leaves
2-3 cups chicken or vegs stock
1/2 cup finely chopped coriander



Method:

Preheat oven to 170C.
Heat 1 tablespoon oil in a large frying pan over high heat. Add lamb shanks. Cook for 5 minutes or until browned.
Transfer to an oven proof dish with vegetables.
Reduce heat to medium add remaining oil, add onion, garlic, ginger and chilli for 2 to 3 minutes or until soft.
Add all the spices and fry for further 1 minute.
Add tomatoes, honey, bay leaves and stock season with salt. Bring to the boil. Pour over lamb and cover dish.
Place lamb in oven. Cook for 2 hours or until lamb is tender. Remove from oven. Stir through chopped corianderand serve.