<!Recipie----->

Turkish Ali Nazik

Eggplant topped with meat, bell peppers and tomatoes, drizzle butter and paprika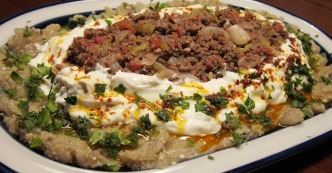 <!Ingredients----->

Ingredients:

Eggplatnt Layer:
3 Large Eggplatnts
1 Tbsp Butter
1 Cup Greek Yogurt
4 Cloves Garlic
1 Tbsp chopped Parsley
1/2 Tsp Salt

Meat Topping:
250g Ground Beef or Lamb
1 Onion, Finley chopped
1 Tbsp Olive Oil
2 Green Bell Peppers, chopped
2 Medium Tomatoes, diced
Salt and Pepper to taste

Drizzle:
1 Tbsp Butter
1/2 Tsp Paprika

<!Method----->

Method:

Heat the oil in a large frying pan add the meat, cook stirring on a high heat until the fat run then add the onion, green peppers, tomatoes, salt and pepper, stir and cook for 10 minutes, set aside.
Cut slits in each eggplant then place directly onto a gas burner to char the flesh, turning regularly then remove when completely blackened and when you can easily insert a fork.
Allow the eggplant to cool slightly then peel off the blackened skin, squeeze out excess water, cut off stalks and slightly mash then place in a sieve and allow to drain, set aside
In a bowl, mix the yogurt and garlic, set aside.
Place the eggplant mash and butter in a frying and on a medium heat cook stirring for 2-3 minutes, remove from heat set aside.
Assemble the dish, place the eggplant on the serving dish, pour over the garlic yogurt then top with the meat mixture.
Make the drizzle, melt the butter in a frying pan then add the paprika and mix well then drizzle over the dish.
Garnish with parsley and serve hot immediately.