<!Recipie----->

Turkish Lamb and Vegetables Stew

Boneless lamb in a tomato, potatoes, eggplant and zucchini stew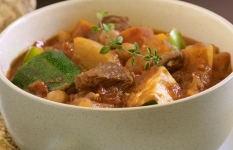 <!Ingredients----->

Ingredients:

500g boneless lamb, diced
2 large onions, finely chopped
3 cloves garlic, crushed
2 large potatoes, cut into slices
1 small eggplant, diced
1 medium zucchini, sliced
400g can of diced tomatoes
1 1/2 tblsp olive oil
1/2 tsp dried oregano
1/2 tsp dried rosemary
4 bay leaves
3-4 cups water
Salt and pepper to taste

<!Method----->

Method:

Heat 1/2 tblsp of oil in a large frying pan on a high heat. Add the lamb and keep turning until browned.
Add remaining oil to the pan and reduce heat to medium. Add onions and garlic then stir for 2-3 minutes until onions are softened.
Add tomatoes, oregano, rosemary, bay leaves, salt and pepper and water cover and simmer on a low heat for 45 minutes then add vegetables and continue to simmer until vegetables are softened.
Remove bay leaves, serve hot with rice or pita bread.