<!Recipie----->

Spicy beef and potato triangles

Pastry stuffed with spicy beef, potato and peas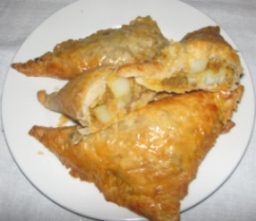 <!Recipie Ing & Meth--------->

Ingredients:

2 tablesp vegetable oil
1 brown onion, chopped
1 teasp salt
1 teasp ground cumin
1 teasp ground turmeric
1 teasp ground coriander
1 teasp chilli powder
2 garlic clove, crushed
400g lean beef mince
300g potatoes, peeled, diced into 1cm pieces
1/2 cup peas
3 sheets frozen ready-rolled puff pastry
1 egg, lightly beaten



Method:

Boil potatoes for 7-10 minutes until tender then drain, set aside.
Heat oil in a frying pan over medium heat. Add onion and Cook for 5 minutes or until onion are soft.
Increase heat to high then add cumin, coriander, turmeric, chilli powder, salt and garlic, cook stirring for 1 minute or until aromatic.
Add mince continue stirring for 5 minutes or until browned then add peas and cook for another 5 minutes.
Add potato to mince mixture, mix well and Set aside to cool completely.
Preheat oven to 200C.
Line a large baking tray with baking paper.
Cut each sheet of pastry into 4 squares. Spoon filling into the to each square, fold each square in half to form a triangle. Use a fork to press pastry edges together to seal. Place onto prepared tray.
Brush with egg and Bake for 15-20 minutes or until golden. Serve hot.