<!Recipie----->

Cheese Filled Pastry Triangles

Crispy pastry triangles filled with creamy white cheese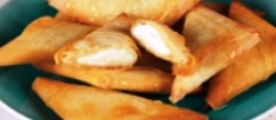 <!Ingredients----->

Ingredients:

6 Frozen Filo Pastry Sheets, thawed
1 Cup Ricotta Cheese
350g Feta Cheese, crumbled
1/4 Cup Full Cream
1 Egg, lightly beaten
1 Garlic Clove, crushed
Salt and Pepper to taste
1/3 Cup Unsalted Butter, melted

<!Method----->

Method:

In a large bowl add the ricotta, feta, cream, egg, garlic, salt and pepper mix well to form a smooth consistency.
Preheat oven to 180c.
Cut the entire stack of filo into quarters.
Working one at a time, brush each filo square with the melted butter on both sides then place 1 Tbsp of filling in one corner then fold over to form a triangle.
Place triangles onto a baking try.
Bake the triangles for 15-20 minutes until golden.
Allow 10 minutes to cool then serve.