<!Recipie----->

Chickpea Sambusak

Fried pasty stuffed with chickpeas, onions and spice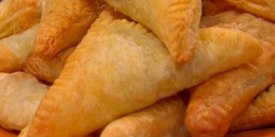 <!Ingredients----->

Ingredients:

200g Canned Chickpeas
1/4 Cup Plain Flour
1 Onion, grated
3/4 Cup Oil
Salt and Pepper to taste
1 Tsp Cumin
1/2 Tsp Ground Cardamom
Oil for frying
water

<!Method----->

Method:

Mix in large bowl the flour, oil, salt and pepper. Then slowly add water mixing through until a smooth dough.
Divide into small pieces then place on a tray and put in a warm place for one hour.
Mix mashed chickpeas, onion, salt, pepper, cumin and cardamom. Roll each piece of dough and spoon about 2 tablespoon from the mixture in the center. Fold and twist the edges.
Heat the oil and deep fry the samboosak on both sides, drain on paper towels then serve.