<!Recipie----->

Iraqi Iroog Bread

Spicy bread with beef, onion and tomato cooked through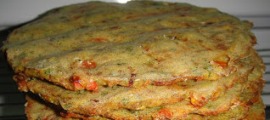 <!Ingredients----->

Ingredients:

4 Cups Flour
2 Tsp Yeast
1 Tsp Sugar
1/2 Tsp Salt
750g Ground Beef
2 Spring Onions, finely chopped
1/2 Onion, finely chopped
2 Tomatoes, seeded, finely chopped
1 Cup Parsley, finely chopped
1 1/2 Tsp All Spice
1 Tsp Turmeric
2 Tsp Salt
1/4 Tsp Chili
1/2 Tsp Pepper

<!Method----->

Method:

In a large bowl, mix the sifted flour, 2 tsp yeast, 1 tsp sugar, 1/2 tsp salt, and enough warm water to achieve a liquidly dough, almost like paste.
Cover and set in a warm place for about 30 to 45 minutes.
Preheat oven to 220c.
Mix by hand the minced meat, finely chopped vegetables, and the spices and seasonings into dough.
Using wet hands take a handful of the mixture and pat it into a disc about 1cm thick.
Bake for about 15 to 20 minutes until cooked through and golden at the bottom and edges, then serve.