<!Recipie----->

Spicy lamb fingers

Pastry rolls filled with lamb, pine nuts and spice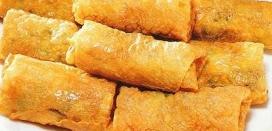 <!Recipie Ing & Meth--------->

Ingredients:

Filo Pastry
40 grams pine nuts
250 grams minced lamb
1 onion, finely chopped
½ teaspoon ground cumin
½ teaspoon ground allspice
salt and freshly ground black pepper



Method:

Drizzle a little olive oil in a frying pan and place over a low heat.
Add the pine nuts and stir constantly until golden (be very careful as they can easily burn).
As soon as you see them start to change color, remove the pan from the heat and keep stirring.
When they are evenly colored, place them on paper towels to drain.
In the same pan, add a little oil along with the onion, cumin and allspice.
Cook until the onion has softened and become translucent. Add the meat and continue to stir - cook until the meat has changed colour and cooked through, about 5 minutes.
Remove from the heat and add back the pine nuts, stir to distribute them evenly and then place the mixture into a bowl to cool.
Cut the filo sheets into 8cm/3 inch wide x 25cm/9 inch long strips.
Form pairs with these strips - sandwich these layers together with a little melted butter.
Take one sandwiched pair and place it in front of you and then place another sandwiched pair at the base of this strip to form an inverted T.
Place a good teaspoon of filling in the centre to form a sausage shape.
Fold the sides in and over the filling.
Brush the exposed pastry with a little melted butter and roll to form a tight cigar shape.
Repeat the process with the remaining filling.
Place a sheet of baking paper onto a baking tray, brush the sheet with a little olive oil and then arrange the fingers on top.
Brush these with a little extra oil and then bake in a preheated 180C until golden (about 20 minutes).
Arrange on wire racks to cool slightly - these are best served warm from the oven.